Avis Ford
Background
Avis Ford is a nationally ranked automotive dealership in Southfield, Michigan. Their heavy involvement in the community and its genuine customer service have made the dealership branded as "the dealership with the heart". Proud to be the nation's leading single-point African American owned dealership, Avis Ford has received the Ford President's Award nine times.
As an engineer by trade, Avis Ford owner Mark Douglas understood the advantages of LED lighting. They looked to CGE Energy to help with this cause by improving their dealership's parking lot lighting with energy efficient Cree® LED lighting.
After optimizing a lighting layout, CGE Energy upgraded Avis Ford's previous metal halide pole fixtures to energy efficient Cree® OSQ™ Series Area luminaires and wall mounted fixtures to Cree® XSPW™ LED Wall Mount luminaires. Douglas and his team were impressed by Cree®'s Multi-Level controls, which allow the lighting fixtures to dim when there is no activity.
Avis Ford is also part of the CGE Protect Lighting Maintenance program. CGE Protect is a worry-free lighting maintenance service that will keep the Avis Ford's parking lot and interior showroom looking their best throughout the lifetime of the lighting.
Energy Saving Results
By implementing an energy project with CGE Energy, Avis Ford experienced a substantial 90% reduction in lighting energy consumption. The dealership will realize an average monthly energy and maintenance savings of $3,682. The projected energy cost savings are $441,875 over the next 10 years.
"I am very happy with the results. The install was smooth and easy and the lighting looks great at night." - Mark Douglas, Owner Avis Ford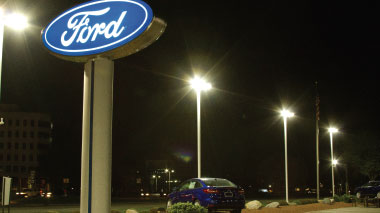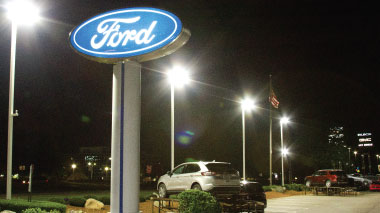 Before: $490,872
After: $49,097