Diamond Moba Americas
Background
Diamond Moba Americas in Farmington Hills world-leading manufacturer of egg grading, packing and processing equipment. Troy Siegrist, Moba's Director of Finance had the need to improve the light levels in the company's 100,000 square foot manufacturing facility.
In looking for a company to solve their lighting needs, CGE Energy came highly recommended by another business in Moba's network. Exceeding expectations, the CGE Energy team was able to reduce the Moba Farmington Hills facility's energy use by 82%.
There were over 500 fixtures upgraded to energy efficient LED lighting in the project scope. CGE removed all of the existing linear fluorescent lamps and seamlessly integrated new LED strip fixture within the same housing. The result was an increase in the overall light output with a dramatic reduction in energy consumption.
Energy Saving Results
By implementing an energy project with CGE Energy, Diamond Moba is cash flow positive from day one and will realize an average monthly energy and maintenance savings of $2,841. The projected energy cost savings are $341,000 over the next 10 years.
This energy project helps Moba take one more step in fulfilling their vision to manufacture their egg equipment with the lowest possible cost of ownership for their customer.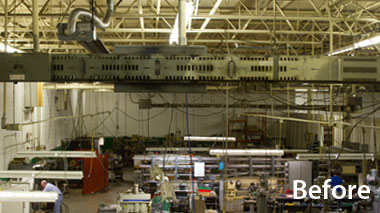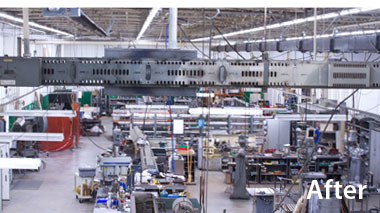 Before: $415,850
After: $74,850