MacLean-Fogg
Background
MacLean-Fogg in Chesterfield, Michigan is the recognized global leader in the manufacture of bolts and studs for high temperature and high vibration applications. Each year, they form 70-million fasteners.
MacLean-Fogg utilizes the lean 5-S manufacturing methodology, which practices maintaining a "visual facility" for an efficient and safe work environment. Their management understood that they could achieve this by improving the light levels in the company's 50,000 square foot manufacturing facility.
Previously, MacLean-Fogg had once state-of-the-art LED lighting, but after almost a decade of use, the light output had significantly degraded. Today's LED technology has greatly improved in the amount of light produced for the energy used. CGE Energy engineered and redesigned a lighting system that increased light levels while cutting the amount of fixtures needed in half– from 185 to 92.
Energy Saving Results
MacLean-Fogg will realize an average monthly energy and maintenance savings of $2,256. The projected energy cost savings are $129,731 over the next 10 years. With improved lighting, MacLean-Fogg can continue to focus on growing their business and increasing the market share on their high temperature product line.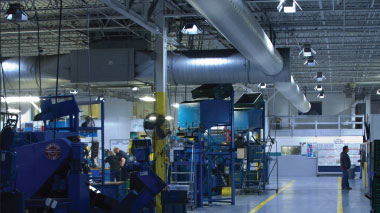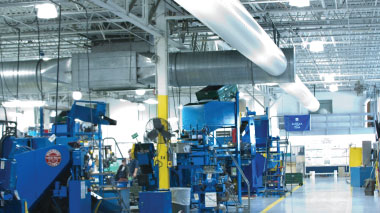 Before: $228,656
After: $98,925