Briarwood Ford
Background
Steve Whitener of Briarwood Ford in Saline, Michigan needed to find ways to make his dealership's parking lot lighting more energy efficient. After a thorough analysis of the lot space and existing layout, CGE Energy developed a plan to replace the lot's outdated and inefficient metal halide fixtures with industry-leading Cree® Edge HO LED fixtures specially designed for auto dealers.
CGE Energy was able to improve the visual appearance of the lot significantly while reducing energy use by 66%. The number of fixtures dropped from 130 to only 74, and with Cree® LEDs, light is focused on the cars and not wasted in the street or sky. With the light uniformly spread throughout the lot, Briarwood's nighttime lighting now has a more true-to life color rendering, so everything under them looks more vibrant and lifelike. The vehicles showcased along Briarwood's front row shine brightly, and their colors pop. Cree® fixtures hold an unmatched 10 year warranty and utilize controls for dimming capabilities and improved security. CGE was able to secure Briarwood a $50,400 rebate from DTE Energy for the LED upgrade.
Energy Saving Results
By installing new Cree® LED fixtures, Briarwood Ford will realize a 36 month return on investment and is cash flow positive from day one with an average monthly savings of $4,880. These LED fixtures provide a projected energy cost savings of $271,210 over the next 5 years and $585,617 over the next 10 years.
Video Customer Testimonial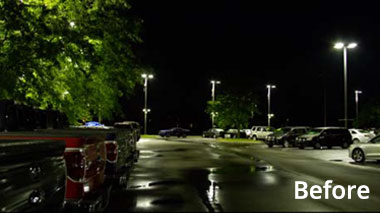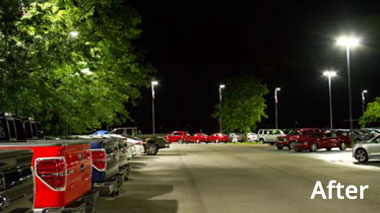 Before: $887,299
After: $301,681