Cadillac of Novi
Background
Cadillac of Novi is recognized as the number one Cadillac dealer in the nation. They looked to CGE Energy to improve their customer's evening car-buying experience by upgrading the dealership's parking lot lighting to energy efficient Cree® LED.
CGE Energy's engineers were able to reduce the number of necessary fixtures from 140 to 71, which combined with the energy savings of LEDs reduced the dealership's lighting energy use by 76%. These energy efficient fixtures remove the orange or green color casts common in older lighting technology and render the vehicles in true-to-life colors so a pure white Escalade looks just as beautiful as in the daylight. CGE Energy was able to secure the dealership a $19,000 energy rebate for their upgrade.
Cadillac of Novi is also part of CGE Energy's CGE Protect program. This worry-free lighting maintenance service keeps the Novi dealership's parking lot and interior showroom looking its best all year round and CGE Energy technicians are only a call away.
The owners of Cadillac of Novi have contracted CGE Energy to upgrade and maintain the lighting of three other of their auto group's locations.
Energy Saving Results
With CGE Energy, Cadillac of Novi will realize a 12 month return on investment with an average monthly energy and maintenance savings of $2,283. The projected energy cost savings are $314,043 over the next 10 years.
By saving in monthly operating costs and taking themselves out of the lighting maintenance business, Cadillac of Novi can focus on selling cars and putting the customer first, which is the reason Cadillac of Novi is the busiest Cadillac dealer in the nation.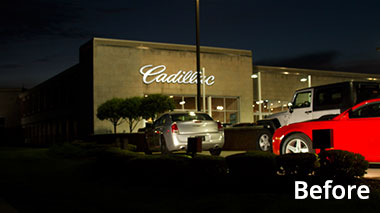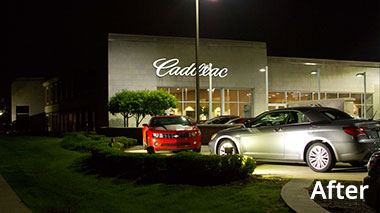 Before: $413,214
After: $99,171