Farm Bureau Insurance
Background
Farm Bureau Insurance of Michigan was founded in 1949 and today protects nearly 500,000 Michigan policyholders. Farm Bureau Insurance agents across Michigan provide a full range of insurance services— life, home, auto, farm, business, and retirement policies.
Their 170,000 square foot Lansing, Michigan corporate headquarters is Farm Bureau's data center for all of Michigan, so reliability of power is of utmost importance.
Farm Bureau trusted CGE Energy to help make these energy goals possible. After CGE investigated and engineered the optimal use of energy, Farm Bureau is implementing a comprehensive initiative which includes a large-scale combined heat and power natural gas generator, two solar photovoltaic (PV) systems, thousands of interior and exterior LED lighting fixtures, as well as energy efficient boilers, hot water systems, and building control systems.
Energy Saving Results
Having $0 invested with CGE Sustain, Farm Bureau Insurance was able to turn wasted energy expenses into net savings of over $1.6 Million over the next 20-years. Farm Bureau Insurance is there for Michigan farmers who wanted an insurance company that worked as hard as they do. CGE Energy supports this mission by protecting Farm Bureau with ongoing maintenance and guaranteed energy savings.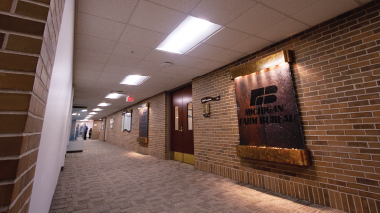 20-Year Increased Profitability
$1,658,642