State of Michigan Capitol Complex
Background
As one of the first 50 Energy Service Companies (ESCOs) in the nation, the CGE Energy team has worked in the alternative energy industry since 1989.
In 1998, the CGE Energy team implemented and completed the first lighting project for the State of Michigan Capitol Complex. Since then, CGE has completed multiple state facilities because of their quality of work and attention to detail. At the capitol complex, CGE Energy's team members reduced the State of Michigan's energy use by 62%. There were 34,619 fixtures upgraded in the project scope. The upgrade affects over 1,631,796 square feet across eight of the Lansing site's buildings, which were constructed between the 1950s and 1980s.
CGE Energy retrofitted the previous fixtures to electronic ballasted T8 fluorescent lamps, and in some cases utilized reflectors to allow fewer lamps needed for additional energy savings. We also installed new LED exit signs.
Energy Saving Results
By upgrading to new energy efficient lighting, the State of Michigan experienced a 25-month average return on investment with an average monthly energy savings of $34,513. The estimated energy cost savings was $4,747,899 over a 10-year period.
A top priority for Michigan's government officials is to manage government resources efficiently and effectively and, by so doing, provide accountability for tax dollars spent to support government operations. CGE Energy was able to help Michigan reduce and stabilize long-term energy prices for their facilities, allowing the state to reallocate the funds to help the state in other important arenas.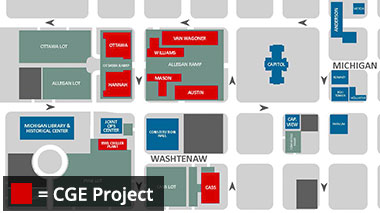 Before: $7,657,902
After: $2,910,002