Trumbull Crossing Apartments
Background
Trumbull Crossing Apartments is an income-based subsidized apartment and townhouse community in Detroit, Michigan. The 245-unit community was built in 1976 and was seeking a solution to reduce their operating costs, reduce maintenance expenses and improve security throughout their apartments.
CGE Energy reduced the complex's energy use by 75%. There were 352 fixtures in the project with a goal to meet or exceed previous light levels. CGE Energy upgraded exterior fixtures to LED, replacing existing 175 watt pole fixtures with Cree 42-watt XSPR fixtures. We also upgraded wall packs throughout the complex to LED. For Trumbull's interior lighting, CGE Energy retrofitted all of the outdated T12 fixtures to electronic ballast T8 lamps, and in some cases utilized reflectors to take four lamps to two lamps for additional energy savings. Where appropriate, we installed sensors to save on low-traffic spaces.
As a final measure, CGE replaced all incandescent exit signs with LED versions and upgraded stairwell fixtures with new ECO LED fixtures.
Energy Saving Results
By implementing an energy project with CGE Energy, Trumbull Crossing Apartments will realize a 41-month return on investment with an average monthly energy savings of $1,208. The projected energy cost savings are $166,139 over the next 10 years.
Trumbull Crossing is an example that low-income housing can be energy-efficient housing.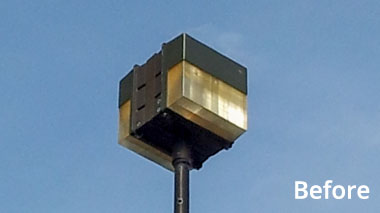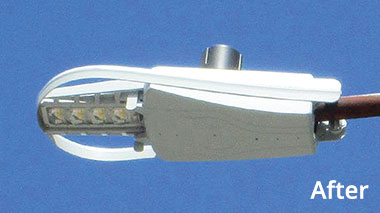 Before: $221,519
After: $55,380